Are you looking for best free online proofreading tools? if yes then you are on the perfect page. Be with us we will list down you all proofreading tools with their benefits.
Do you wish to write engrossing content that will make the reader sit up? If you aspire to improve your writing, then these online proofreading tools will get you there. Here, I will share nine such tools to start your error-free writing journey.
Whether you're writing a para or a blog, proofreading is a must. You will eventually improvise your writing after you use this proofreading software that not only corrects your errors in the article but also let you write an article effortlessly.
Quick pick:
Whitesmoke
Why there is a need for online proofreading tools?
Online proofreading tools help you write flawless content that appeals to the reader.
Are you a blogger, student or writer? If you wish to become one and start an online career for yourself, then you already know that among these the best avenue is blogging.
Blogging is considered to be one of the best ways to generate income through writing. Better to say, writing error-free content.
If you are trying hard to achieve the first page on Google SERPs, many keywords you are hooked onto might have grammatical errors.
So how do you find errors while writing content for your blogs?
While you can certainly do it on your own, why not try using some free proofreading software for writing error-free content on your blog.
This helps in driving more traffic to your site and as a result, your website grows automatically.
Online proofreading tools boast of several advantages such as correcting your typos on the go as well as saving changes in docs or text files.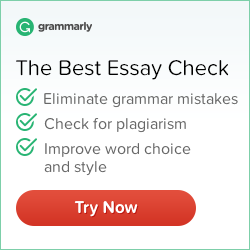 How to perform solid proofreading for flawless content?
You can always adopt these techniques for writing error-free articles.
Ensure that you have read the content before hitting the publish button.
You can read the content aloud to identify grammatical mistakes and typos easily.
Ask others to read the content to find mistakes in it.
Learn to write in short paras so as to minimize mistakes. Short sentences have a lower risk of having mistakes.
You can also take the help of some of the best online proofreading services to write great content and get rid of errors.
Let's see the TOP TEN online proofreading tools that I have identified by my research and hence, recommend it to you.
Free Online Proofreading Tools
At the time of writing this article, Grammarly is one of the most popular grammar correction tools in the market.
Grammarly emphasizes more on finding grammatical mistakes and also providing an explanation of your mistakes.
This is definitely a great advantage for those whose native language is not English. Grammarly has an in-built plagiarism checker by which you can easily identify copied content.
It is an efficient tool to find precise details about the content you are writing.
In case you would like to have a look at Grammarly's features, here are a few things you should know.
It helps in writing content and finding mistakes effortlessly.
It has a different add-on for MS Word, browser or for writing content online. It detects the wrong structure of the sentences / finds errors and alerts the users immediately.
It is built to cater to the needs of bloggers, writers, etc.
Grammarly Web Interface
In order to use the Grammarly web interface. Please visit the "My Grammarly" page and click to "Upload"
Now, you can either upload your written content in Docx format or click on NEW to start writing in Grammarly main editor. After you write a few lines, Grammarly detects your mistakes and underlines all spelling or grammatical errors.
You can correct the wrongly spelled words. The changes reflect instantly. Moreover, you can use the "Correct with Assistant" feature to start correcting the errors. You can find the correct version with the assistant button on the top right corner of the screen
The assistant will follow up by providing the error alerts in your content. You can correct them easily by choosing the relevant suggestions from the drop-down list.
Grammarly Browser Extension
There is a Grammarly tool for easy access to your web browser as well. Grammarly web interface is convenient for proofreading of content that you write online. Thus, installing the Grammarly browser extension for Chrome, Firefox and Microsoft edge is definitely easy and hassle-free.
Grammarly can be considered as a free proofreading software to download.
Once you have installed it on your browser and signed up with your Grammarly credentials it will start monitoring everything you type in your browser.
A separate icon will appear on your browser toolbar that lets you toggle between different settings such as the "Check grammar and spelling" option.
Whether you're writing a blog post or a paragraph on Facebook or an email or a Quora answer. Grammarly actively monitors your writing and offers suggestions when changes required.
Grammarly Autocorrect
Grammarly is a boon to writers, bloggers and anyone who writes a lot, it effectively finds mistakes in writing. Grammarly significantly has a large user base due to its Grammarly desktop or mobile app.
However, the web interface is pretty easy to understand and convenient for the end-user. Nevertheless, the desktop version is similar but it's a bit different in my opinion.
Grammarly Premium Features
As I said, the Grammarly proofreading tool is one of the best when it comes to the free version. But those who have the requirement for additional work can avail the following benefits in Grammarly Premium such as:
Advanced punctuation, context, grammar and sentence check
Style suggestions based on the genre of your written work
Suggestions to help improve your vocabulary
Plagiarism check
Grammarly is the most popular proofreading tool among bloggers, writers and anyone who generate a steady stream of income by writing. Investing in Grammarly Premium is best when it comes to getting the advance feature in it.
Also get Grammarly discounts for students, teachers, bloggers, and writers.
ProWritingAid pricing starts from $60 and goes up to $210 (one-time purchase)
The second best in our list is ProWritingAid which is an online proofreading tool with advanced features.
ProWritingAid boasts of a comprehensive Web Editor which is used by professional writers and whosoever is concerned about their quality of work. You can say this is one of the best Grammarly alternatives for free.
ProWritingAid web editor
ProWritingAid offers a free web editor similar to that of Grammarly plugin for online proofreading work.
It keeps a check on grammar, spelling and readability issues in real-time. Errors found are underlined in the main editor field.
Also, users get the option for real-time check available on the menu bar to address specific problems.
The above screenshot depicts that the mistakes are highlighted in different color codes:
Blue for grammar
Yellow for style
Red for spelling
Unlike other free best proofreading software, ProWritingAid helps in improvising the overall structure of your content by identifying different style issues and on top of this, it displays all possible corrections by underlining the words.
Detecting mistakes and providing suggestions is enough for most people, ProWritingAid has done a good job by offering comprehensive readability and Flesch reading score.
ProWritingAid also tells you about the overused words in the article. Summoning these advanced features in ProWritingAid help you get rid of grammatical errors, spelling errors and so on.
ProWritingAid for browsers
ProWritingAid offers browser integration for browsers in Chrome, Safari, Firefox, Google docs, and even Microsoft word.
Note that a user would have to download a different version of the ProWritingAid for different services. For instance, the safari integration does not have to be used with the Google docs and you will need to have a different add-on then.
ProWritingAid premium features
If you want to buy ProWritingAid premium features then the following are the benefits.
Auto-generate report for any number of words
50 or more plagiarism checks per annum
Option for a desktop app
Good knowledge base for improving your writing skills.
ProWritingAid proofreading tool is used by millions of people around the world. And tryootech readers can get up to 50% discount using the link given here.
The price starts at $6.59/month and goes up to $17.95/month for the business users.
First & foremost, WhiteSmoke does not have a free version like Grammarly and ProWritingAid and that's quite evident as the tool is meant for the professional writer.
Despite not having a FREE version the basic proofreading tools provide you with 250 words of checks at a time.
For instance, when you start as a freelancer to build a professional-looking portfolio or a LinkedIn proofreading 250 words at a time is easy as you write a summary, work experience and so on.
Before you move to "Pay and Use" the tool let me tell you WhiteSmoke has everything in it. Whether you are in basic or premium plan it is actually quite good in finding mistakes and correcting them.
WhiteSmoke for browsers
WhiteSmoke with its "Essential" plan allows you to head in the right direction.
Start proofreading your blog using this tool right away.
The base plans start with tools such as grammar checker, plagiarism checker and translator.
Similar to other best proofreading software in the market, the WhiteSmoke app efficiently detects grammar, punctuation, spelling errors and style of writing.
What makes it even more intriguing is that the suggested corrections are shown above the text as "Check Text".
Apart from quick edits, WhiteSmoke offers detailed explanations on writing errors to improvise your writing skills and prevent you from committing the same mistakes again.
WhiteSmoke is a great choice for those who strive for their writing abilities rather than depending upon software forever.
WhiteSmoke Desktop Application
WhiteSmoke supports the desktop application with its Premium or Business plan. It also allows you to check the Microsoft Word document. You can check the entire document at one go.
Use the Plagiarism checker to identify duplicate entries for your writing mistakes – overall it's one solution for everything.
WhiteSmoke Premium and Business Features
The WhiteSmoke online proofreading tool does not have a free version. To begin your subscription you have to purchase its Premium plan which comes with the following advantages:
Microsoft Word Integration
Use up to 3 PCs with the Business plan
Desktop application for Windows & Mac
The most enchanting thing is WhiteSmoke is the most affordable online proofreading tool in the market today. You can also get a discount on their homepage.
Ginger Premium plans start from $29.96/month and go up to $4.99/month for one year.
Ginger is perhaps the oldest software used mainly for proofreading a document. Ginger is a highly reliable proofreading tool with great potential to come out with a high-quality article every single time.
It is similar to other online proofreaders like checking for errors, offering real-time corrections, providing contextual word definition as well as the option to rephrase your sentences to make it stand out.
Ginger for Chrome & Safari
Ginger works and looks identical to the Grammarly browser extension. Ginger integrates with Chrome & Safari seamlessly for proofreading text in an easy manner.
The major difference we found was that Ginger opens up in a mini-window where you literally have to type and proofread the text adjacent to the highlighted mistakes in the mini window.
For instance, finding the mistakes when you write an answer on Quora will pull up the Ginger extension along with a window to write the content and check for grammar simultaneously.
Ginger and Grammarly both include browser integration to make the proofreading better. Choosing one among the two is a matter of personal preference.
Ginger emphasis on one paragraph at a time and help you refine your writing style using the "Rephrase" tool altogether.
There are numerous benefits of the Ginger Business plan. It allows you to add members to your account as and when you have multiple authors using the Ginger online proofreading tool.
Ginger also includes an in-built translator that translates text into 40 languages in the free version. It might not be as good as WhiteSmoke (50 language support) but this is good when you get it for free.
Translations are generally meant for aliens or foreign exchange students who are always in a rush to write in a different language.
Perhaps, the last but not least CON, Ginger isn't supported on the Mac. This brings us into the next stage of the discussion.
Ginger for Windows
Using Ginger for Windows is a great way to start your writing because with the Premium plan you get a host of services free with Ginger.
The "Personal Trainer" tool definitely helps you with practice sessions and allows improvising your writing abilities.
Some may benefit with the "text reader" feature that reads aloud the written text. It practically helps you understand if the content sounds more natural when spoken by a native English speaker – many professionals or persons at Webinars prepare an oral script using this. It helps them connect with the audience in the correct tone by writing.
Assuming that you have learned everything about Ginger software in this post, now it's time to make a viable decision about purchasing the Premium Ginger proofreading plan.
Get access to the personal trainer
Allow the option of a text reader
Unlimited grammar checks
In-depth grammatical, typos analysis, etc.
Which Online Proofreading Tools are you heading to?
Now that we're at the end of this post. I would like to recommend a few things here for the best proofreading software you should choose.
As in terms of usability, Grammarly scores better than the others. The seamless browser integration of the app alone is capable of writing an error-free article in no time.
WhiteSmoke is useful for people who like to stay within a stipulated budget. Also, WhiteSmoke's features such as support for Microsoft Word is admirable.
Looking at the last but not the least, ProWritingAid significantly has a lot of features than the others. It is absolutely value for money in the line-up for proofreading software.
For business purposes, Ginger becomes a must-try, especially when you collaborate with your team for writing articles.
Try Ginger Software for Proofreading your articles
To be precise, we feel summarizing everything under one note i.e.
Grammarly –preferred by bloggers and professionals, anyone who has a flair for writing
ProWritingAid –definitely the best for professionals for producing high-quality proofread content
WhiteSmoke – for those who love writing in MS Word
Ginger –it is mainly for teams who need to operate scalable proofreading service at one go. Even Ginger is good for novice writers with features like translations and text readers; it is quite alluring for bloggers too.
BONUS: Try even more Online Proofreading tools
You can always continue with the hunt for the best online proofreading tools below.
After the Deadline, which was earlier called Polish My Writing is a simple looking proofreading tool that helps you get rid of writing errors, typos and offer suggestions for the same. You can just start writing or copy/paste your entire document in order to get it checked.
Typely is a free proofreading tool that simply helps do all the basic proofreading work. It boasts of a minimalistic web editor such as reading time tracker, text reader, and PDF reports.
Typely isn't free, but when it comes to striking a perfect balance between simplicity and effectiveness, it skillfully handles a list of writing issues with duplicate words, wrong entries or confusing sentences.
SpellCheckPlus is just what you need for the convenience of proofreading. You can start by just pasting your content and it will in due course check for spelling and grammar errors you've made.
Also, it provides you with suggestions on how to improvise your writing through proofreading and helps you develop your grammar too.
How can we forget the favorite Hemingway Editor?
Hemingway Editor is built to cater to the need of true writing.
It's efficient in highlighting text that is complex in nature. For instance, the passive voice sentences are marked in green, and adverbs in blue. You can easily go after what to fix or ignore by just looking at the colorful text.
Well, Hemingway Editor does not offer suggestions and is not comparable to Grammarly or Ginger. However, it will help you write more clearly. The web version will cost you nothing.
But in order to use the desktop version, the price is $19.99 for Windows and Mac.
The desktop version does not carry any additional features but if you're a person who easily gets distracted by working in a web browser then, this is it.
It's ideal for self-editing, both for fiction and non-fiction writing.
9. Wordy
Wordy is the next alternative for the best proofreading website. It usually allows you to outsource your text for content creation, though Wordy is a bit different from actual online proofreading tools.
You can quickly jump in for an affordable plan. And you'll get what you want.
Wordy assigns your work by searching for a perfect match for your content. And the editor will send you the complete order for content in less than 30 minutes. It's the fastest service that we've seen so far.
Watch below video on how you can use Grammarly
Conclusion
These were some best online tools for proofreading anyone can use to improve their content and write flawless content. Writing awesome content is an art that you can achieve by auditing your content with any above tools. Writing is not throwing away a blog with piles of posts up online.
You have to craft it to make it engaging and informative and this encourages your audience to come back hunting for your masterpieces.
So, did you make a decision?
Of course yes.
Then the only thing left is to pick your desired online proofreading tools.
So, signup for your favorite free online proofreading tools to take your writing to greater heights.
If you are looking tools to write content fast for your blog then you should checkout Jasper.ai tool its an AI content generation software used by top bloggers.
Also read: